Get to know Clyne Valley – a day of different events (June 27th)
Heritage walks, Citizen Science, Wildlife, Bushcraft, Kids Orienteering and more!
Please refer to the grid below to see what's going on – some events require booking. All led by experts and volunteers under current Covid rules. Suitable footwear for uneven, slippery terrain is recommended.
We hope to see you there. Please spread the word by letting your family, friends and neighbours know – we are sure there is something of interest for everyone.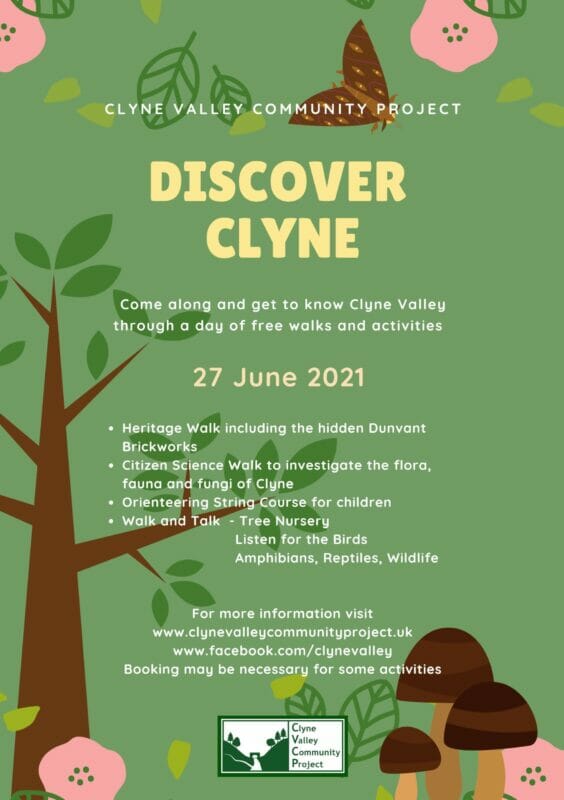 Clyne Valley Community Project: Get to Know the Clyne Valley Day
Time
Event
Start point
Booking
9.30
Hidden Dunvant Brickworks walk (2 hours)
Leader: Matt Carroll
Dunvant Green car park (off Garrod Ave)
Booking essential:

[email protected]

9.30
Citizen Science walk- discovering flora, fauna & fungi (2hours)
Leader: Chris Jones
Beneath bridge just south of Railway Inn, Killay
Booking essential:

[email protected]

Beating the Bounds walk (4 hours)
Leader: John Maudsley
Details and booking essential:
01792 298354
10.00 – 12.00
Bushcraft for families
Leader: Andrew Price of Dryad Bushcraft
Ynys Newydd playing area near the car park
No booking required
10.00
A simple Orienteering String Course for families – accompanied children up to 12 years
Leader: Niall Reynolds
Ynys Newydd playing area near the car park
No booking required
10.15 & 10.45 & 11.15
Meditation in Nature
Leader: Nico, Actif Woods
Ynys Newydd playing area near the car park
Booking essential:

[email protected]

10.30
A stroll to Coeden Fach tree nursery and into the west side of Clyne Valley
Leader: Alyson Downey & Barbara Parry
The Woodman pub car park, Blackpill
Booking essential:

[email protected]

13.00
Short bird walk
Leader: Dan Rouse
Ynys Newydd playing area near the car park
Booking essential:

[email protected]

11.00-12.00 & 13.00 – 14.00
A wildlife walk for all ages
Leader: Tom Eyles
Woodcote, Killay SA2 7AU Near children's playground
Booking essential:

[email protected]